Children and Families are an important part of St. Stephen's congregation.  We welcome children with gladness!  Our mission is to help children develop a spiritual relationship with God in a caring, safe, and fun environment.  Gretchen Moore is our Children and Family Ministries Director.
Children of all ages are welcome at St. Stephen's and we offer a variety of options for families to engage in worship, formation, and fellowship.
Special Notes for Families with Infants and Toddlers 
Nursery Care available every Sunday, September-May, 10:15am-11:00am (Children join their families for the Eucharist)
Joyful Noise Eucharist.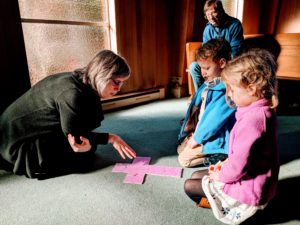 The Joyful Noise Eucharist is a fully interactive Episcopal Eucharist service that includes: music, story (in the style of Godly Play), prayer, and Eucharist. This service follows the themes of each season and relies on repetition and participation to help teach the meaning behind our traditional service. This service is offered every Sunday at 9:30am in All Saints Chapel, and lasts roughly 30 minutes. While all are welcome to attend, this service is especially designed for families with young children (under 9 years old).
Episcopal Youth Community. Gathering every Sunday, September-May, immediately following the 10:30am service (roughly at 11:35am), this formation, fellowship, and service ministry for children aged 9-13 years old, offers an opportunity to dive deeper into the stories of our faith and begin to grow into a mature understanding of our faith.
St. Stephen's Youth Group.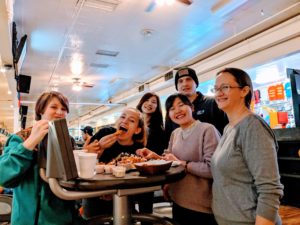 Gathering on the First Sunday of the month at 6pm, St. Stephen's Youth Group is an opportunity for those aged 13-18 years old to come together for food, fellowship, and fun, growing in our faith and serving our community.